Approvals/Requirements Satisfied by eRADIMAGING Courses
~ ASRT accreditation for ARRT Category A credit (All Courses)
~ MDCB accreditation by the Medical Dosimetrist Certification (Selected Courses)
~ ARMRIT accepted (All MRI Courses)
~ CAMRT and Sonography Canada recognize the ASRT approval (All Courses)
~ ARDMS accepted (All Courses)
~ Florida approval for all courses 1 credit or more
~ NMTCB accepted (All Courses)
~ California CE requirements met for all radiography courses
Circle of Courage in the Workplace
Carole South-Winter, MEd, RT, CNMT
*American Healthcare Radiology Administrators, Lennox, South Dakota.
Address correspondence to: Carole South-Winter, MEd, RT, CNMT, American Healthcare Radiology Administrators, 27946 469 Avenue, Lennox, SD 57039. E-mail: csouthwinter@yahoo.com.
The Circle of Courage is a philosophy based on the Lakota tradition of values. The 4 values, which include belonging, mastery, independence, and generosity, are symbolized by the medicine wheel. This sacred symbol is easy to understand and identifies the 4 areas by the traditional colors (Figure). Workplace success and employee well-being can be directly or indirectly attributed to the benefits that are reaped when these 4 values are met in the workplace.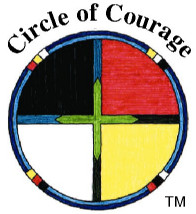 The changing face of the radiologic and imaging sciences workplace continues to be a dynamic and cyclical environment. Shortages, workloads, technological advances, and pathological breakthroughs have been occurring in this field since its fruition. However, the past decade has ushered in an entirely new set of challenges faced by technologists, administrators, and educators in the radiologic and imaging arenas.
Radiologic and imaging professionals have never been more accountable for information than they are now because of the expanding roles of technologists, increased responsibility, and procedural diversity. For the first time, fusion imaging has created an untapped market that is sorely lacking standards, employees, and a clear future. This new twist has produced a mixed bag of emotions in the workplace, ranging from pride to burnout. A recent survey conducted by The Kabachnick Group of 1400 employees of various ages indicated that 84% of people enjoy their jobs but not their workplace.1 The Circle of Courage is a road map to improving this statistic and increasing employee satisfaction of the workplace. The 4 values of the Circle of Courage are further described below.
Belonging
Native American anthropologist Ella Cara Deloria described the core value of belonging in Indian culture in these simple words: "Be related, somehow, to everyone you know."2
When using Maslow's Hierarchy of needs, it becomes clear that belonging ranks just above health and safety.3 Sociologists and physiologists concur that this low level on the hierarchical placement is indicative to how fundamental this need is in people.
Most adults spend approximately one third of their time in the workplace or doing work. In comparison, when adults are asked to measure life satisfaction, they weigh job satisfaction only as high as 50%.4,5 The belonging aspect of the Circle of Courage is becoming increasingly critical with adults entering the workforce in this decade. Young professionals want a stable job, uniform benefits, and a pension plan. They are also following their desire for meaning, belonging, fulfillment, and a social network. Determining whether employees consider themselves happy in the workplace is largely related to satisfaction with supervisors and getting along with coworkers.
Mastery
Competence is ensured by guaranteed opportunity for mastery. The first lesson in traditional Native American culture is that one should always observe those with more experience to learn from them.
Mastery is the value in which individuals seek personal, professional, and social recognition of the skills, characteristics, and traits in which they possess. Much of this is related to continued learning or information-seeking behavior. Mastery is not simply the desire for recognition of a task or procedure, but the recognition of being an expert in a particular area or scope of practice. In the radiologic and imaging sciences, many people in the workplace may share the same skills, but it is the unique areas in which individuals shine and are particularly proficient that contribute to this Circle of Courage value.
Independence
It is uniqueness that also leads to the third value, independence. Many professionals have described their perception of self in the workplace as manipulated, controlled, oppressed, or even enslaved. This cookie-cutter impression of employees is quickly sliding into past perceptions. Those currently in the workplace and those about to enter the workforce must be accepted as individuals; therefore, task-oriented workplaces and one-size-fits-all job descriptions can no longer be used for employees. We are in a high-tech world; workplaces must comply by offering flexibility, independence, creativity, and virtual offices. Studies have shown that when employees' independence in these areas is respected, they adopt characteristics that are fiercely competitive, highly productive, and exhibit unparalleled loyalty.
Those in the learning phase are encouraged to make decisions, solve problems, and show personal responsibility. Superiors model, nurture, teach values, and provide feedback, whereas the learners are given abundant opportunities to make choices without coercion.
Generosity
Finally, the Circle of Courage comes full circle with generosity. The central goal in Native American mentoring is to teach the importance of being generous and unselfish. In helping others, one creates his or her own proof of worthiness; an individual has the power to make a positive contribution to another human life.
When the previous 3 needs are met, or at least taken into consideration in the workplace, an environment of community is created. It becomes apparent to employers that the more they contribute to their employees, the more employees reciprocate with a positive work ethic. Small acts of generosity occur daily in the workplace and, eventually, some departments or institutions will see altruistic acts becoming a standard operating procedure.
Conclusions
The Circle of Courage is continuous; therefore, it has no beginning or ending point. The 4 values can be met in one area of a person's life, such as family, and strained in another area, such as the workplace. In most circumstances, belonging is the primary area to meet. When employees believe that they belong and begin to value their the workplace, they are more inclined to act in a belonging fashion, thus reducing sick time and relocation, increasing productivity, and contributing to increased office morale.
References
1. The Kabachnick Group. Available at: www.kabachnick.com/index.htm. Accessed November 7, 2006.
2. Deloria EC. Buffalo People. Albuquerque, NM: University of New Mexico Press; 1994.
3. Stephens D, Heil G. Maslow on Management. New York, NY: Wiley; 1998.
4. Judge TA, Watanabe S. Another look at the job satisfaction-life satisfaction relationship. J Appl Psychol. 1993;78:939-948.
5. Spector PE. Job Satisfaction: Application, Assessment, Causes, and Consequences. Thousand Oaks, Calif: Sage; 1997.