Approvals/Requirements Satisfied by eRADIMAGING Courses
~ ASRT accreditation for ARRT Category A credit
~ MDCB accreditation by the Medical Dosimetrist Certification
~ ARDMS and NMTCB accepted (All Courses)
~ CAMRT and Sonography Canada recognize the ASRT approval of these courses.
~ California CE requirements met for all radiography courses
~ Florida approval for all courses 1 credit or more
The Link Between MRI Gadolinium Contrast Media and Nephrogenic Systemic Fibrosis Presented in Patients with Renal Insufficiency
Jeff Berry, MS, RT(R)(CT) and Melony Green, BS, RT(R)
*Assistant Professor, Radiography Program Director, University of Oklahoma Health Sciences Center, College of Allied Health, Department of Medical Imaging and Radiation Sciences, Oklahoma City, Oklahoma.
†Radiologic Technologist, Fort Worth, Texas.
Address correspondence to: Jeff Berry, MS, RT(R)(CT), Assistant Professor, Radiography Program Director, University of Oklahoma Health Sciences Center, 1200 North Stonewall, AHB-3021, Oklahoma City, OK 73117. E-mail: Jeff-Berry@ouhsc.edu.
Disclosure Statement: The authors report having no significant financial or advisory relationships with corporate organizations related to this activity.
ABSTRACT
Nephrogenic systemic fibrosis (NSF) is a new disease that has raised concerns within magnetic resonance imaging (MRI) and the medical community. With the advancements in technology and imaging capabilities of MRI in the past decade, the use of gadolinium contrast agents has increased significantly in magnetic resonance angiography procedures, potentially leading to the sudden onset of NSF symptoms. The majority of NSF cases in the literature are associated with single or multiple doses of gadolinium contrast materials after a patient undergoes an MRI procedure. It has been suspected that gadolinium contrast media enables a metal toxic event that occurs systemically in skin, muscle, and organ tissues stimulating fibrosing characteristics. This disease is focused particularly in patient populations who have kidney disease or renal insufficiencies stemming from the decreased function of the glomerular filtration system. There are many possible causes of NSF, but the chief attribute is focused on gadolinium contrast agents: types, chemical stability, and the toxic transmetallation process. Over 90% of NSF cases can be linked to a previous MRI gadolinium contrast exam throughout research findings which has heightened apprehension within the US Food and Drug Administration and medical imaging facilities.
Introduction
A rare disease has been newly acknowledged within the medical and imaging community that is now clinically referred to as nephrogenic systemic fibrosis (NSF). This disease has been recognized primarily in patients with renal insufficiencies and in kidney transplant recipients. The term NSF stems from the systemic fibrosis progression of the skin, muscles, and organs that can advance into a severely debilitating condition. The distal extremities are the most common areas of involvement followed by the abdomen, but the face is almost never involved.1 Common internal organs that can become affected include the heart, lungs, diaphragm, skeletal muscles, liver, and the central nervous system.2 This is a very rare disease with only a small number of cases reported in the world.
In the United States, the incidence of NSF was estimated to be 0.4% in patients who had received frequent dialysis and had also received a high dose of magnetic resonance imaging (MRI) gadolinium contrast.3 MRI examinations have advanced particularly in terms of imaging capabilities within the past decade, which has also increased the use of contrast materials to demonstrate vasculature in magnetic resonance angiography (MRA) procedures. NSF has been associated with both standard-dose and high-dose gadolinium administration,2 which could be correlated to the kidneys' degree of filtration and functioning. Approximately 90% of patients with NSF endure dialysis-dependent chronic renal insufficiency, therefore, this population of patients is the most at risk for developing this rare disease.3 Other patients who are at risk for developing NSF are those with hepatorenal syndrome or those who have had a kidney transplant.4 As a means of providing the highest quality of care, it is advantageous that patients, hospitals, and employees be educated about this aggressive disease in terms of prevention. Each radiologic study using gadolinium contrast presents a 2.4% risk for developing NSF which necessitates that patients be well-informed about the disease.5
Gadolinium contrast agents are widely used as contrast media for MRI studies and are thought to be safe even in patients with impaired renal function.6 It is hypothesized that the use of gadolinium contrast media results in metal toxicity to the body, which triggers NSF in the majority of patients suffering from the disease. Gadolinium contrast media have been in existence longer than NSF has been recognized which is suspicious to researchers, doctors, and contrast media manufactures. Since its creation, there have been approximately 200 million administrations of gadolinium contrast; approximately 500 cases of NSF have been reported in peer-reviewed literature from a limited number of institutions in the United States.7 More than 90% of proven NSF cases are related to gadolinium contrast agents, specifically to gadodiamide and gadopentetate dimeglumine.5 The chemical make-up of these US Food and Drug Administration (FDA)-approved gadolinium contrast materials may be the trigger for NSF, but the etiology is still not completely confirmed. A common question persists: Is the use of gadolinium contrast media in MRI studies the leading cause of NSF in patients with renal insufficiency?
What Is NSF?
Clinical Manifestations
Nephrogenic systemic fibrosis is an aggressive fibrosing disease in which fibrous connective tissue seeks to replace normal skin, organ, and muscle tissues as a reaction to injury or infection. Clinically, NSF manifests with pain, swelling, pruritus, and erythema of the skin, usually beginning on the hands or feet and extending proximally.1 When fibrosis of the skin becomes apparent, it can lead to painful thickening, retraction, hardening, and hyperpigmentation. Visually, as in Figures 1 and 2, these patches of hyperpigmentation appear brownish, and brawny skin indurations are commonly found on the lower extremities. In many patients, NSF may rapidly progress into a debilitating illness due to joint immobility and flexion contractures, and patients with NSF may become wheelchair dependent within a span of a few weeks.5 In the most severe cases, NSF can become life threatening if there is multiple organ fibrosis which can cause decreased physiologic function and organ failure. These affected organ systems generally include the skin, muscles, lungs, and the cardiovascular system.10 Typically, NSF is conspicuous and can be painful, but there are reports that patients can remain asymptomatic in the beginning stages of the disease.11 The development of symptoms is different for every patient and usually arise anywhere from 2 weeks to several months, which may correlate to the amount and type of gadolinium contrast used.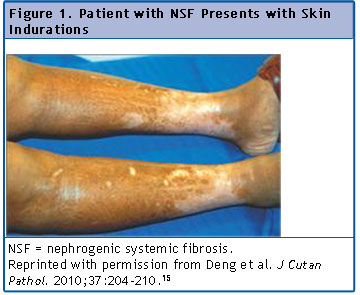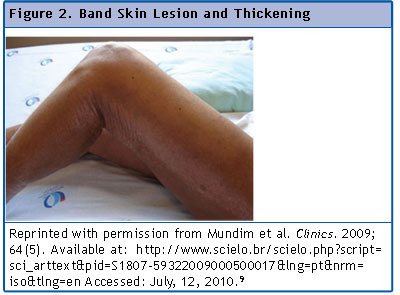 A deep-skin biopsy is mandatory for diagnosing NSF.1 This disease has its own laboratory appearance and is thought to spread by circulating fibrocytes throughout the dermal layers and affected organ tissues. A circulating fibrocyte is a bone-marrow-derived leukocyte that is thought to play a major role in wound healing and tissue remodeling; the most common fibrocyte associated with NSF is the CD34+ cell.2 The distinct appearance of biopsied cells from a patient with NSF shows an increase in dermal spindle cells positive for fibrocytes CD34+ and procollagen I which take part in scar formation and wound healing.10 The presence of these circulating fibrocytes is thought to bring about a fibrosing mechanism within the dermal layers as a reaction to a possible toxic injury. This collection of fibrocytes generates altered patterns of collagen bundles contained with the mucin. There is also thickening of the subcutaneous septa with moderate inflammation of the superficial dermal layers; the presence of lymphocytes or macrophages is an immunological response.
It is vital for medical professionals to be well-informed about a patient's kidney creatinine level and calculated glomerular filtration rate (GFR) to determine the functionality of the kidneys as a means of preventing NSF. The creatinine level can be easily obtained with a blood sample; the GFR can be determined by calculating the patient's creatinine level, gender, age, and race. If a patient's GFR is low or has decreased, it indicates that the kidneys are not filtering out waste and water. This is significant when administering contrast materials because it can create a toxic event in the body and organ systems. Most of the NSF cases reported in the literature include patients with kidney disease or renal insufficiency and have low GFR findings (<30 mL/min/1.73m2). Other factors to consider when determining if there is decreased kidney function include whether the patient has a history of diabetes, hypertension, has had a kidney transplant, or any past kidney injury or disease. It is important to note when a patient has acute or chronic kidney disease and whether or not the patient is receiving dialysis treatment because this is the population that is most frequently diagnosed with NSF in all of the reported literature.
The Discovery
In 1997, a disorder first called "scleromyxedema-like dermopathy" began appearing in patients with severe renal failure or renal transplant recipients.12 The disease was first detected by nephrologists at a Southern California renal transplant center, where they encountered patients with extensive cutaneous lesions or indurations and hardening, thickening, and hyperpigmentation of the skin of the limbs.2,13 Advanced research was performed to establish the appearance and characteristics of this fibrosing disorder to distinguish this disease from other pathologic conditions such as scleromyxedema. Physicians Shawn E. Cowper, MD, and Philip E. LeBoit, MD, constructed a case series of 15 patients with this rare condition to further identify clinical and histopathologic traits of NSF. Their findings confirmed the absence of the abnormal plasma cell paraprotein immunoglobulin G in the skin sample which is a specific indicator of scleromyxedema. Other distinctive features of NSF include the sparring of brawny papules to the face and the risk posed to patients with chronic kidney disease (CKD) or patients who were receiving dialysis treatments.12 These factors allowed for this disease to be recognized as a fibrosing disorder, distinct from scleromyxedema. This condition was then referred to as nephrogenic fibrosing dermopathy (NFD) establishing its first pathologic name.
Other cases started appearing around the United States and worldwide with the same clinical features. Autopsy reports later demonstrated additional organ involvement and an observation was made that the disease was mediated by a circulating cell, or fibrocyte, called CD34+ that enables a fibrosing mechanism and can travel throughout organ systems, which later categorized NFD as a systemic disease.10 To further classify the disease, the condition was then referred to as nephrogenic systemic fibrosis. There have been multiple suspected epidemiologies within the past decade, but the leading attribute in the literature focuses on the use of MRI or MRA gadolinium contrast agents in patients with decreased kidney function.
Various patients in the United States who have been diagnosed with NSF have been linked to some previous exposure to gadolinium contrast materials, usually from an MRA procedure that contained a large dose or multiple doses of contrast. The association of NSF with gadolinium contrast agents was first observed by nephrologist Thomas Grobner, MD, who reported in 2006 that 5 patients who were receiving dialysis treatments developed the disease in 2 to 4 weeks after receiving gadolinium contrast during an MRI procedure.1,3,7 Grobner discovered gadolinium materials within the skin tissues of his patients linking the MRI contrast to NSF. As soon as Grobner published his findings, uncertainties grew in the medical community, and the FDA issued a public health advisory on December 22, 2006 in order to help prevent further NSF cases.2 The advisory states that patients with a GFR of less than 30 mL/min/1.73 m2, acute kidney injury, or who are post-transplant patients should avoid gadolinium contrast agents.10 There has been an increase in awareness about NSF in radiology departments ever since this health advisory was issued. During the following year, the number of new NSF cases dropped dramatically which was the first indication that MRI gadolinium contrast agents may be the ultimate cause or trigger for this fibrosing disease.7
What Are the Causes of NSF?
The direct etiology of NSF still has not been pinpointed, but this topic has generated interest with dermatologists, pathologists, nephrologists, and the medical imaging community. The link between NSF and MRI gadolinium contrast agents has become the chief suspected cause of this disease. Multiple published studies have detected significantly high levels of gadolinium within the skin tissues of patients with NSF, and the onset of the disease usually appears a few weeks to months after an MRI procedure that utilized gadolinium contrast.15 Other features that are thought to be triggering factors of NSF include surgical or vascular procedures, history of a hypercoagulable state, erythropoietin administration, and immunosuppression treatments.16 However, there has been very little research on these other possibilities due to the focus on MRI gadolinium contrast agents. Also, there have been no reported medications or infectious agents that have been convincingly linked to the development of NSF.15
Why do researchers believe that NSF is linked to gadolinium contrast media? This disease has occurred in patients with moderate- to end-stage renal disease after they were given a gadolinium-based contrast agent to enhance MRI.5 It is has been debated that the gadolinium and chelate materials remain inside the body tissues creating a toxic event, or "transmetallation," that may trigger NSF. In his research, Dr Thomas Bardin found that in autopsies of 3 patients, levels of gadolinium in the heart, aorta, and other organs were identified, suggesting that gadolinium deposits may initialize the development of fibrosis in the vasculature as well as the skin or other organs.3 However, many patients who were at risk for acquiring NSF who were also previously exposed to MRI gadolinium contrast did not develop the disease17, which could be associated with the stability and type of gadolinium contrast agent used in the MR study. The literature shows that 90% of cases of NSF are most likely caused by the use of gadodiamide; and some by the use of gadopentetate dimeglumine5. However, there are also a few reported cases where other forms of gadolinium agents were used as well. The association of NSF and MRI gadolinium contrasts has given more confidence to advanced research performed on NSF etiology, especially since the number of cases has decreased over the past 3 years due to compliance regarding the issued FDA warning.
MRI Gadolinium Contrast Media
The use of MRI gadolinium contrast agents began in 1988 with very limited use. In 1992, MRI was growing and becoming a dynamic imaging modality and clinically valuable and as a result, regulatory approval was extended for use on the whole body.7 MRI became progressively appealing to the medical community due to its magnetic properties and prominent detail of the human anatomy without much consideration given to the use of any radiation necessary. Various pathologic conditions such as tumors and urologic conditions within the vasculature can clearly be demonstrated on an MRI with the use of a gadolinium contrast agent. Because gadolinium contains paramagnetic properties, it is a very useful contrast media in MRI. There is usually minimal risk in experiencing any adverse reactions when receiving a gadolinium injection, however, the patient may experience the following symptoms: nausea, pain, headache, dizziness, altered taste, or a cold sensation at site of injection.1 As technology and imaging applications have advanced, the use of contrast has become increasingly popular amongst physicians which lead contrast manufacturers to create multiple forms of the same contrast media in order to make a profit. Currently, there are 6 agents that are approved for use in the United States: gadopentetate dimeglumine, gadoteridol, gadodiamide, gadoversetamide, gadobenate dimeglumine, and gadoxetate.16 Before the discovery of NSF, the use of MRI contrast agents was thought to be safe for all patients, even for patients with renal insufficiencies. Research now speculates that the different chemical components within these gadolinium contrast materials may be the triggering factors in the fibrosis associated with NSF.
Gadolinium is the 64th element in the periodic table and is a part of the lanthanide series. This element has strong paramagnetic properties that are used to facilitate the contrasting effect on T1-weighted MRIs when proton relaxation of water molecules is achieved in the human body.12 Gadolinium is injected intravenously and excreted through the kidneys. It is known that in patients with normal kidney function, gadolinium is expelled by glomerular filtration and has a half-life of 1.5 hours. Gadolinium can be toxic to internal organs if injected in its free ionic form, Gd3+; therefore, it has to be paired with soluble nontoxic chelate substances to be considered a stable compound that will move through the vasculature and excreted through the kidneys for use in clinical applications. If the gadolinium is not bound tightly to a chelate material, the free-floating gadolinium element may be deposited into tissues and might eventually cause metal toxicity to organs over a period of time. Every gadolinium contrast agent is bound differently with a chelate which makes some forms of gadolinium more stable than others. This has become a concern in the investigation of NSF epidemiology.
How Can Gadolinium Contrast Be Harmful?
Gadolinium is not a natural substance in the human body and can stimulate toxic events if not excreted efficiently. Natalin et al state that gadolinium toxicity can include splenic degeneration, liver necrosis, enzyme inhibition, calcium channels blockade, interference with synaptic transmitters/receptors, and hematologic abnormalities.12 A toxic process called transmetallation has been acknowledged as a key factor in the development of NSF from gadolinium contrast agents. Transmetallation is defined as the displacement of gadolinium by other cations (eg, calcium, iron, and zinc) from the chelate with the release of Gd+3 into the bloodstream. Gd+3 binds to phosphates and become insoluble allowing reduced clearance of the Gd+3 ions and chelates.1 This process is facilitated by endogenous metals like zinc, copper, iron, and calcium. At increased levels, these elements can destabilize the complex leading to its dissociation.6 Metabolic acidosis is also known to detach the chelate bond, and this condition is most commonly seen in patients with renal failure who are the most at risk for NSF. There have been multiple theories of how the process of transmetallation causes fibrosis in the body, but all theories point to the deposition of Gd+3 ions in tissues that activate circulating fibrocytes as a reaction to perceived injury to remodel and repair damaged tissue. This creates an excessive fibrosis of tissues within the dermal layers and organ systems.
Every contrast material make up varies in the stability of the gadolinium chelate bond, and in some contrasts, there may be more of a risk of transmetallation than in others. Gadodiamide and gadopentetate dimeglumine have been associated with the majority of NSF cases and can sequentially be linked to the chemical make-up of these materials. As found in the peer-reviewed literature, as of February 1, 2008, there were 157 cases linked to gadodiamide, 8 cases with gadopentetate dimeglumine, and 3 cases with gadoversetamide.13 Out of 195 cases in this report, 97.5% were linked to a previous exposure to gadolinium with 16 contrast agents unspecified due to inadequate injection documentation. The numbers and statistics in these findings heighten the concern for these 2 specific contrast agents.
Each contrast agent has a chelate-gadolinium bond with either carboxyl (ionic) or amide (nonionic) groups as demonstrated in Figures 3 and 4. The stability of the gadolinium-chelate bond depends on certain factors: kinetic stability, thermodynamics, ionic/molecule configurations, and excessive chelates within the bond (Table). The higher the thermodynamic and kinetic stability, the more stable the binding, which results in less Gd3+ being released.13 The configuration of the chelate bond pertains to the charge (ionic or nonionic) and the molecule make up (linear or cyclic). In the nonionic linear molecule, carboxyl groups are reduced and replaced with amide groups which make the binding to the gadolinium element weaker or more unstable; this type pertains to gadodiamide and gadoversetamide.17 The ionic linear, or cyclic, molecule has more carboxyl groups to bind to the Gd3+ ion which makes the chelate bond more stable; this form relates to gadopentetate dimeglumine and gadobenate dimeglumine. With the cyclic molecule design, gadoxetate is the most stable with its bond oriented into a cage-like structure surrounding the gadolinium element so that it cannot easily dissociate from the molecule. Typically, excess chelates exist to reduce the chance of toxic effects and are usually implemented into less-stable forms of contrast. Therefore, gadodiamide and gadoversetamide encompass the most chelates and as a result, have the weakest chelate bond.11 Based on these chemical factors, gadodiamide proves to be the weakest and most unstable gadolinium contrast material that is consistently associated with cases of NSF.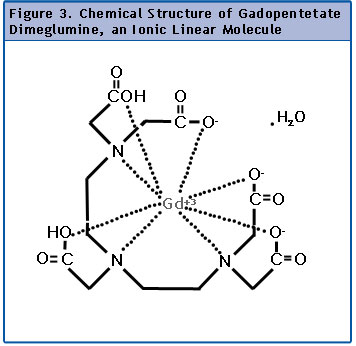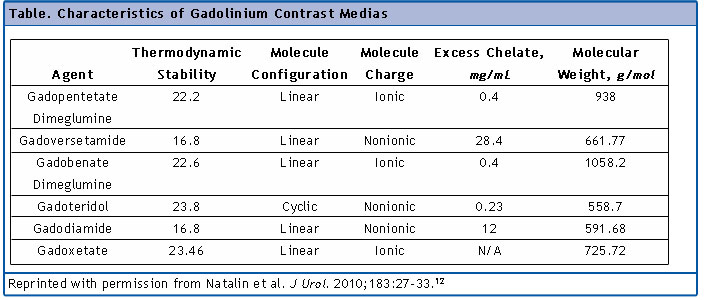 A free-floating gadolinium element can become dangerous when it is deposited into tissues and remains there for long periods of time with the ability to create systemic fibrosing within the body. Gadolinium-containing contrast agents are rapidly cleared with a half-life of about 1.5 hours in patients with normal renal function; however, in patients with chronic renal failure, the half-life is prolonged and may exceed 30 to 120 hours.7 In comparison with iodinated contrast agents for computed tomography (CT), the half-life clearance is 60 minutes to 2 hours for a patient with normal kidney filtration rates, but it could be prolonged to over 30 hours in those with impaired renal function.18 The proposed solution for patients with diseased kidneys after undergoing examinations with contrast materials, such as MRI, is to have an immediate dialysis treatment to assist in the clearance of these foreign materials to prevent toxicity. Martin Prince et al indicate in their research that NSF incidence is increased to 19% in patients with acute or chronic renal failure who received a high dose of gadolinium when their creatinine level was increasing and dialysis was delayed for longer than 2 days.19 NSF occurrence is prevalent even in patients who receive dialysis treatments, which could be due to the delay in treatment or associated with a large amount of contrast that was used to the point that dialysis alone could not excrete all of the gadolinium materials. When a case of NSF occurs, it is incurable, and the Gd3+ ions will stay in contact with body tissues resulting in further progression of the disease to a more severe state that can result in fatality.
NSF Cases Linked to MRI Gadolinium Contrast
The first person to establish the connection between NSF and gadolinium contrast was Thomas Grobner. He observed skin thickening and indurations in 5 out of 9 end-stage renal disease patients 2 to 4 weeks after an MRA gadolinium-induced procedure with gadodiamide.1 These patients all had elevated levels of metabolic acidosis that possibly triggered the gadolinium chelate bond to dissociate allowing free gadolinium ions to deposit in tissues, initiating the transmetallation process. Grobner's significant observations between the 5 patients who contracted NSF and the 4 patients who were asymptomatic included increased levels of metabolic acidosis among both groups, and in affected patients, the length of time the patient received dialysis treatment was longer. Therefore, increased levels of pH may have a large effect on initiating the disease.1 Another study by Thakral and Abraham examined 57 skin biopsies from 29 patients with NSF that revealed the presence of gadolinium in 53 of the samples; each patient had at least 1 biopsy demonstrating gadolinium exposure (Figure 5).5 These skin biopsies allowed Thakral and Abraham to further study the transmetallation process due to the discovery of the gadolinium ions present within the cytoplasm of fibrocytes. Other cases were associated with gadolinium in a retrospective review of medical charts from 2 hospitals in New York from 1997 to 2007. This review examined 15 patients all of whom suffered from stage 4 chronic kidney disease and developed NSF after a high dose of gadolinium infusion. There were 14 patients who were exposed to gadodiamide and 1 patient who was exposed to multiple types of gadolinium contrasts. This particular study identified an increased incidence of NSF when injecting gadolinium materials in patients with renal failure, increased creatinine, and delayed start of dialysis treatments.13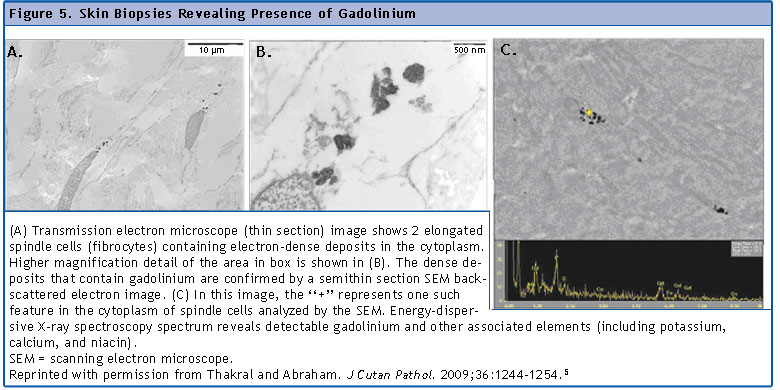 Broome et al conducted a 6-year study of patients at their institution demonstrating 12 out of 301 patients developed NSF within 2 to 8 weeks after receiving a double dose (0.2 mmol/kg) of gadodiamide in an MRI procedure.20 All patients had known renal insufficiencies and underwent dialysis procedures directly after the MRI and continued for up to 3 days after the procedure, which did not prevent NSF from occurring. It is still uncertain as to why only 12 patients obtained this rare disease when all of the patients observed had acute or chronic renal disease. This may suggest that gadolinium transmetallation must occur with other inefficiencies such as acidosis or elevated endogenous metals. A recent animal study was performed in 5 to 6 nephrectomized rats when gadodiamide or gadobenate dimeglumine was repeatedly administered to these rats resulting in significant long-term retention of gadolinium in the skin, which lasted longer than 168 days of the experimental protocol.3 This study also showed NSF-like skin changes in the rats that most likely stemmed from the multiple doses of gadolinium contrast. Overall, this specific study helped strengthen the link between gadolinium contrast materials and the disease process of NSF that can be correlated to human findings.
The International Center for Nephrogenic Systemic Fibrosis Research (ICNFDR) has registered over 335 patients with NSF. In consideration for all the records that can be located, each of these patients had at least 1 known exposure to gadolinium-based contrast within 2 to 8 weeks before the development of clinical symptoms for NSF.11,20 For the majority of cases presented in the literature, there is consistent information about NSF, and most of the etiology theories point to a recent high-dose infusion of gadolinium contrast. Many confirmed biopsies from patients with NSF have a proven link to gadolinium, demonstrating gadolinium deposits within the fibrosing dermal papules and systemic tissues. The cause of NSF has not yet been fully established due to minimal mysterious cases that cannot be associated with any exposure to MRI gadolinium contrast agents. NSF research is ongoing and preventative measures within the hospital setting are being implemented. The most significant breakthrough with NSF was made after the FDA warning was issued in 2006 resulting in a vast decrease in the amount of NSF cases reported in the past few years. This NSF epidemic has required heightened vigilance in radiology departments in hopes of decreasing the number of patients who contract NSF and soon having more control over the incidence of this disease.
The Imaging Technologist Professional
When working as an imaging technologist, especially in MRI, there is a large responsibility within one's professional duties when injecting contrast agent materials. It is essential to have good communication and problem-solving skills and to be aware of any organ dysfunction or conditions so that the appropriate amount of contrast agent is administered. The amount of gadolinium contrast that can be used is determined by the patients GFR level, age, and body weight. This ensures that the dose will be safe for that specific patient and their individual condition. Although, depending on the imaging study, the amount of contrast required in order to comply with the study can vary, and a safe dose of contrast will need to be determined before injection. At times, determining the desired amount of contrast may need to be verified by a radiologist or physician, especially when performing an exam on a patient with renal insufficiencies. Being able to inject the smallest amount of contrast material needed for a particular study is important for patient safety and could potentially decrease post-imaging complications including NSF.
Since there have been proven links between NSF and gadolinium contrast agents, the imaging professional can be a very influential healthcare staff member in the prevention of NSF and in protecting patient safety. Simply following the recommendations from the 2006 FDA health advisory to avoid gadolinium injections in patients with a GFR finding of less than 30 mL/min/1.73 m2, acute or chronic kidney injury, and post kidney transplant patients can immensely decrease the amount of new NSF cases around the world.10 Before performing an MRI procedure, the patient interview is essential in helping to determine if there are any other patient factors or conditions that were not previously documented. As a possible future reference to other healthcare professionals, it is vital that the amount of gadolinium, the time, and date all be recorded in the patient's chart so that medical errors can be avoided. Documentation is also important in the event a patient's history needs to be researched should the patient show symptoms of NSF. Clinicians will need to know which gadolinium contrast agent was used and if it possibly initiated the disease. In order to discover the exact cause of this disease, researchers are looking directly at patient documents to investigate the dose, the type of contrast used, and if multiple doses were administered. It is also fundamental to know what the patient's symptoms were, if any, at the time of injection and whether or not their creatinine and GFR levels were acceptable prior to the injection. Should the patient present with any symptoms following the contrast administration, further consideration can be taken.
Healthcare professionals adhere to the ethical values of beneficence and malfeasance to ensure patient safety when they are being cared for. Continuing education and refinement of technical skills are mandatory in order to stay up-to-date with newly discovered diseases such as NSF. Radiologic technologists should be aware of the preventative steps that need to be taken in order to ensure the quality of care and safety of patients. The exact causes of NSF may not be known, but as long as radiologic technologists and all healthcare workers are aware of NSF and uphold the FDA recommendations, the amount of new NSF cases should continue to decrease.
Conclusions
Nephrogenic systemic fibrosis is a new disease amongst the medical community with specific fibrosing characteristics that are set apart from other pathologic conditions. This discovery has just been made within the past decade, and further research concerning the etiology is still being analyzed due to the rarity of this condition that has spread thinly throughout the world. So far, the literature has recognized the most at-risk population for developing NSF are patients with kidney disease or renal insufficiencies. The chief speculation regarding the onset of NSF correlates to a previous dose of MRI gadolinium contrast material that can result in an unnatural toxic event within human tissue known as transmetallation. Transmetallation is caused by the disassociation of Gd3+ from the chelate bond which may be initially triggered by other elevated conditions in the body. Various case reports and research have linked gadolinium accumulation within the tissues of the body in confirmed biopsied samples and autopsies. The gadolinium contrast agent gadodiamide has been associated with the majority of developed cases of NSF and is most likely related to the unstable properties of the gadolinium-chelate bond within this specific contrast material.
The FDA has already issued an advisory to avoid the use of gadolinium contrast agents in patients who present with decreased kidney functions (increased creatinine levels and low GFR findings). This plan has already dramatically reduced the occurrence of new NSF cases. The next plan of action should be focused on changing the chemical make-up of the gadolinium materials, allowing the substantially weaker agents to be eliminated from the MRI contrast media market, to further diminish the number of cases of this disease. Future research should be performed more in-depth to investigate transmetallation dissociation to confirm the link between MRI gadolinium contrast and NSF. Recently, it has been discovered that there is a correlation between metabolic acidosis or pH levels within the body is possible.
The presence of circulating fibrocytes seems be the underlying pathologic stimulant causing the systemic hardening and thickening fibrosis characteristics of the tissues. Future research should focus more on animals, such as rats, to further distinguish the effects of gadolinium contrast and the fibrosing consequence on living tissues to determine the step-by-step process of transmetallation. Correctly documenting and tracking MRI gadolinium contrast administration with all patients, and especially those experiencing symptoms of NSF, should be closely studied. NSF is a serious and debilitating disease that decreases a patient's quality of life and often leads to fatalities. All groups in healthcare including physicians, nephrologists, dermatologists, radiologists, and imaging technologists should be well educated on this topic and should participate in preventative actions to assist in putting a stop to NSF in patients with kidney insufficiencies. The ICNFDR, managed by Dr Cowper, will be dedicated for years to come to researching the features of NSF and consolidating all reported cases with differing pathologic findings within this registry site.
"The past cannot be changed and the future is yet in your power." - Hugh White21
References
1. Grobner T. Gadolinium-a specific trigger for the development of nephrogenic fibrosing dermopathy and nephrogenic systemic fibrosis? Nephrol Dial Transplant. 2006;21:1104-1108.
2. Prasad SR, Jagirdar J. Nephrogenic systemic fibrosis/nephrogenic fibrosing dermopathy: a primer for radiologists. J Comput Assist Tomogr. 2008;32:1-3.
3. Bardin T. Nephrogenic systemic fibrosis. Curr Opin Rheumatol. 2010;22:54-58.
4. Gadopentetate dimeglumine [package insert]. Wayne, NJ: Bayer HealthCare Pharmaceuticals; 2007.
5. Thakral C, Abraham JL. Gadolinium-induced nephrogenic systemic fibrosis is associated with insoluble Gd deposits in tissues: in vivo transmetallation confirmed by microanalysis. J Cutan Pathol. 2009;36:1244-1254.
6. Sheinfeld NS, Cowper S. Nephrogenic Systemic Fibrosis. eMedicine Web site. Available at: http://emedicine.medscape.com/article/1097889-overview. Updated September 16, 2009. Accessed February 8, 2010.
7. Weinreb JC, Abu-Alpha AK. Gadolinium-based contrast agents and nephrogenic systemic fibrosis: Why did it happen and what have we learned? J Magn Reson Imaging. 2009;30:1236-1239.
8. Prince SE. Gadolinium and nephrogenic systemic fibrosis. Uremic Frost: The Nephrology Blog. Available at: http://www.uremicfrost.com/2009/01/gadolinium-and-nephrogenic-systemic.html . Accessed July 2, 2010.
9. Mundim JS, Lorena SD, Elias RM, et al. Nephrogenic systemic fibrosis: mini-review. Clinics. 2009:64(5). Available at: http://www.scielo.br/scielo.php?script=sci_arttext&pid=S1807-59322009000500017&lng=pt&nrm=iso&tlng=en. Accessed July, 12, 2010.
10. Watnick S, Morrison G. Nephrogenic systemic fibrosis. In: McPhee SJ and Papadakis MA, eds. Current Medical Diagnosis & Treatment. 49th ed. New York, NY: McGraw-Hill Companies; 2010:849.
11. Cowper C. The International Center for Nephrogenic Systemic Fibrosis Research (ICNSFR) Web site. Available at: http://www.icnfdr.org . Updated April 15, 2010. Accessed February 8, 2010.
12. Natalin RA, Prince MR, Grossman ME, et al. Contemporary applications and limitations of magnetic resonance imaging contrast materials. J Urol. 2010;183:27-33.
13. Mayr M, Burkhalter F, Bongartz G. Nephrogenic systemic fibrosis: clinical spectrum of disease. J Magn Reson Imaging. 2009;30:1289-1297.
14. Galan A, Cowper SE, Bucala R. Nephrogenic systemic fibrosis (nephrogenic fibrosing dermapathy). Curr Opin Rheumatol. 2006;18:614-617.
15. Deng A, Martin DB, Spillane A. Nephrogenic systemic fibrosis with a spectrum of clinical and histopathological presentation: a disorder of aberrant dermal remodeling. J Cutan Pathol. 2010;37:204-210.
16. Boyd AS, Sanyal S, Abraham JL. Tissue gadolinium deposition and fibrosis mimicking nephrogenic systemic fibrosis (NSF)-subclinical nephrogenic systemic fibrosis? J Am Acad Dermatol. 2010;62:337-342.
17. Morcos SK. Nephrogenic systemic fibrosis following the administration of extracellular gadolinium based contrast agents: is the stability of the contrast agent molecule an important factor in the pathogenesis of this condition? Br J Radiol. 2007;80:73-76.
18. Morcos SK. Dialysis and contrast media. Thomsen HS and Webb JAW, eds. In: Contrast Media: Safety Issues and ESUR Guidelines. 2nd ed. Mauer, Germany: Springer-Verlag; 2009:81.
19. Prince MR, Zhang HL, Prowda JC et al. Nephrogenic systemic fibrosis and its impact on abdominal imaging. RadioGraphics. 2009;29:1565-1574.
20. Broome DR, Girguis MS, Baron PW et al. Gadodiamide-associated nephrogenic systemic fibrosis: why radiologists should be concerned. Am J Roentgenol. 2008;188:586-592. Available at: http://www.ajronline.org/cgi/content/full/188/2/586 . Accessed April 10, 2010.
21. Inspirational Quotes. Key to Life Center Web site. Available at: http://www.keytolifecenter.com/page/page/2143160.htm . Accessed April 8, 2010.
Comments/Questions
What did you think of this article?
The Link Between MRI Gadolinium Contrast Media and Nephrogenic Systemic Fibrosis Presented in Patients with Renal Insufficiency


»
Comment From: oca
» Posted on: 11/07/2010 11:05 AM
interesting and eye opening
»
Comment From: GSEDLACK
» Posted on: 12/18/2011 12:19 PM
I enjoyed this article very much. As a diagnostic radiographer, I found this article easy to read and understand. Not too much MRI technical information.
»
Comment From: mbowers27
» Posted on: 03/14/2013 17:37 PM
As a MRI Technologist I must use the GFR calculator every day. I am shocked that most Physicians and or PA's are totally unaware of NSF and its devastating incurable effects. These professionals should be thoroughly educated before they order any procedure involving injecting a foreign substance into a patient's body!
There are 6 total comments: View All Comments